Kasia Park to Serve as Adjunct Faculty at University of Maine School of Law
Drummond Woodsum attorney Kasia Park will be teaching Trial Advocacy at the University of Maine School of Law during the Spring 2022 semester. The Trial Advocacy & Evidence course focuses on teaching students trial skills through practical exercises and a full simulated trial at the end of the semester. Drummond Woodsum attorneys Melissa Hewey and Elizabeth Germani have both served as Adjunct Faculty and have taught Trial Advocacy for the Law School in the past. Kasia will be continuing the long tradition of partnership between Drummond Woodsum and the University of Maine School of Law.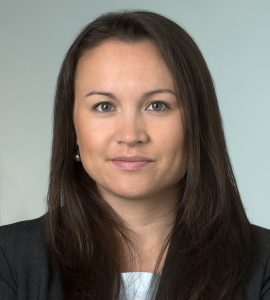 Kasia is a litigator who has substantial experience handling a broad range of civil disputes including municipal, civil rights, employment, and general commercial disputes. She specializes in defending Section 1983 civil rights claims on behalf of a wide variety of clients including municipalities, counties, police officers, and schools. Kasia regularly represents clients in federal and state courts and has substantial jury trial experience.
For more information about the University of Maine School of Law please visit mainelaw.maine.edu.