Farewell to a Founder Harold E. Woodsum
HAROLD E. WOODSUM
August 13, 1931 – January 5, 2020
Farewell To A Founder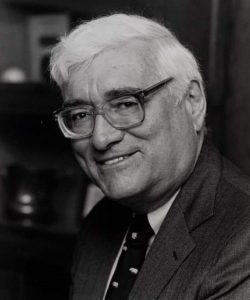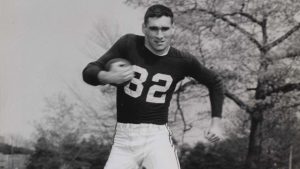 Yale University Athletics
Ed Woodsum passed away on January 5, 2020.  Predictably, his was a quiet passing subject to his wishes that no formal services follow.  This firm that he founded will honor all of his wishes, but Drummond Woodsum pauses to make note of his singular career and, more importantly, the nature of the man who brought this firm to life.  Ed was the last of our founder/name partners to pass, and it is now appropriate to reflect on him and the roots he put down.
Ed was a true Mainer, self-effacing with a robust sense of humor, comfortable in the company of lobstermen or chairing meetings for national organizations.  He achieved at every level, ranging from local civic affairs through his prominent activities on the national and international stages.  He was born to a South Portland family of modest means and progressed through stages of his legal career with truly notable achievements at each level.  Many of those achievements were cast at Yale University, a relationship which became a lifetime passion.
Ed graduated from Yale University in 1953.  While at Yale, he became a headline football player of note well beyond the Ivy League.  Many of his records as an offensive end still stand.  That prowess convinced the Chicago (now Arizona) Cardinals, of the National Football League, to draft him.  When asked about the NFL training camp years later, his response was that "it looked promising until the 40 yard dash trials, but they eventually decided they needed a sun dial to record my times".
The brush with NFL football followed a hitch in the U.S. Army, then a return to Yale Law School, class of 1958.  Following graduation from Yale Law School, Ed signed on with the prominent New York City law firm of White & Case.  He enjoyed his corporate mergers and acquisitions practice there, but the tug of Maine was unrelenting.  Accordingly, Ed struck up a conversation with Dan Drummond, already an established lawyer in Portland, about establishing their own law firm in Portland.  (Ed later confided he had to get past Dan's legal education at Harvard Law School).  Drummond Woodsum was formed on April 1, 1965.
Drummond Woodsum was a success from the start.  Ed's relationships at Yale and White & Case provided a series of high-profile clients.  He became what is now known in the profession as "Rainmaker" for his firm, supporting the growth of the firm in a very competitive market.
Over the years, Ed added a number of civic and professional posts to his resume.  He would not wish to have those listed out here.  He had no patience with lists of achievements, that striking him as boasting.  He would, however, want the National Audubon Society and Maine Coast Heritage Trust to be kept in mind by all, for the contributions they make to protect our environment.  Ed was a hands-on Director for both organizations for many years.
Over the course of his legal career, Ed maintained his active involvement with Yale, including membership on the Yale Corporation, Yale's governing body.  In 1988, his involvement with Yale expanded as the result of a phone call from Bart Giamatti, fellow alumnus and then President of Yale (later to become Commissioner of Major League Baseball).  Bart recognized Ed's loyalty to the institution and his enduring interest in Yale athletics.  Shortly after that call, Ed signed on as Yale Athletic Director.  That lasted until 1994 when Ed returned to his firm.  He retired in 1997, and maintained an of counsel status with the firm thereafter.
At Drummond Woodsum, Ed was both Rainmaker and mentor to our corporate lawyers.  As a mentor, Ed focused upon what it took to become a good lawyer, with an intense focus on client needs.  When one worked with Ed, you knew from the outset that reaching the client's goals defined success.  Putting in the effort was assumed, but failure to meet the client's goals was not an option.  This tended to foster a certain angst in those who worked with him, but it also fostered commitment and self-motivation.  You knew you had met the mark at the end of a difficult deal when Ed called his team together to celebrate that success.  Our firm retains lawyers who were directly involved in those occasions.  For those who did not work with Ed, that commitment remains very much part of our culture.  We wear that mantle proudly.
Drummond Woodsum continues to grow and reminders of Ed as a lawyer and mentor abound.  Commitment to clients and recognizing their goals are at the heart of Ed's legacy.  That legacy lives on.
View Harold E. Woodsum's Obituary here.