Drummond Woodsum Hosts Pro Bono Wills Clinic for Passamaquoddy Tribe at Pleasant Point
Recently a team of Drummond Woodsum attorneys held a pro bono wills clinic for a longtime firm client, the Passamaquoddy Tribe at Pleasant Point.  Attorneys Michael-Corey Hinton, David Backer, and Jessica Scherb, as well as summer associates Sadie Red Eagle and Abby Silsby, spent two very long days successfully completing wills for 21 individuals who were all tribal members, tribal employees, or spouses of tribal members. Day 1 included driving from Portland to Pleasant Point (near Eastport), client intake, and drafting wills throughout the night.  After catching just a few hours of sleep, day two included executing the wills before preparing for the journey back. Before leaving for home, the team was treated to a waterside surf and turf feast prepared by Passamaquoddy Vice Chief Pos Bassett.
The team was supported by Drummond Woodsum attorney Jana Magnuson and Pine Tree Legal Assistance Attorney Ryan Lolar, who began preparations weeks in advance of the clinic through the creation of specifically tailored client questionnaires, engagement letters, and a will template.
"It was a tremendously successful event, which drew praise from the Tribe and many, many happy community members," said Corey Hinton, Co-Leader of the Tribal Nations Practice.  "We hope this will become an annual event, and perhaps we can expand to other tribal communities in the state."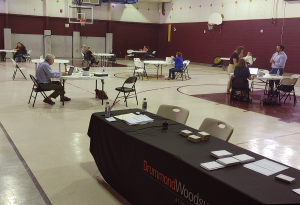 Drummond Woodsum attorneys and staff contributed upwards of 100 hours in pro bono time for this clinic on preparation, travel, will preparation, and the clinic itself.