Drummond Woodsum Employees Roll up their Sleeves for a Week of Service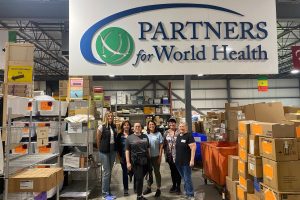 Drummond Woodsum is committed to being involved and invested in the communities in which we live  and work. We encourage our employees to spend time volunteering as a great way to break out of busy schedules and give back.  For the week of July 25th to the 28th the Community Service Committee organized an incredible Week of Service for our employees to give of their time and talents.
Almost 50 employees will be at 6 host organizations volunteering this week in Portland, Brunswick, Bethel, and Kittery. Volunteer opportunities included trail maintenance with Inland Woods and Trails; packaging medical supplies for Partners for World Health; organizing supplies and donations at Preble Street's receiving center; cooking a meal with Midcoast Hunger Prevention Program; trail maintenance and clean up with Portland Trails; and cleaning a national preserve and beaches with the Maine and New Hampshire Chapters of the Surfrider Foundation.
We thank everyone who helped to organize this special week of service and all those who signed up to participate.  Your contributions will make a huge impact on our communities.
* A team of DW volunteers traveled to Bethel and built a storage shed for Inland Woods and Trails to house equipment and materials for forest maintenance.