Corey Hinton Receives the Gerda Haas Award for Excellence in Human Rights Education and Leadership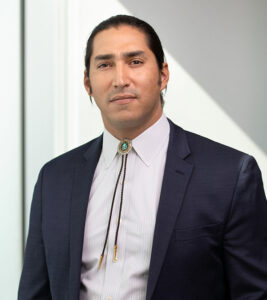 Drummond Woodsum is pleased to announce that Michael Corey Hinton is this year's recipient of the Gerda Haas Award presented by the Holocaust Human Rights Center in Maine.  A citizen of the Passamaquoddy Tribe, attorney, and leader of the firm's Tribal Nations Practice Group, Corey works on federal Indian law and policy, the Indian Gaming Regulatory Act, employment matters, economic development, environmental and natural resource issues, and the fee-to-trust process. Corey also works with non-profits that serve indigenous, socially disadvantaged, and underprivileged communities, and he serves on the Executive Committee for the Thompson Brothers' 4 the Future Foundation, which inspires youth by creating community-based opportunities at the intersection of culture and healthy lifestyles. Somehow he finds time to be with his family, take Passamaquoddy language classes, organize sports and life skills camps for Tribal Nations youth, and volunteer for the Maine Justice Foundation.
Every year the Center's Board and staff nominate recipients for the Gerda Haas Award. Gerda Haas, founding mother of the Holocaust and Human Rights Center of Maine, has inspired many with her passion for human rights education. A Holocaust survivor originally from Germany, Gerda learned that students weren't being taught about the Holocaust in Maine schools. Gerda not only identified a critical educational void, but she also took action to rectify it. The Holocaust and Human Rights Center welcomes the opportunity to recognize and honor an individual who, like Gerda Haas, has demonstrated excellence and initiative in human rights education and leadership. Noted in their announcement, the Center says, "he is an inspiration and delight!"  The award will be presented on September 21st at their annual meeting.