Corey Hinton Delivers the Keynote Address at the 2023 Maine Law Review Symposium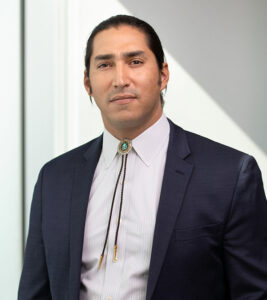 Isolation and Restraint: Maine's Unique Status Outside Federal Indian Law
This is a significant moment in history for the Wabanaki People, the United States, and the State of Maine. The Maine State Legislature recently revisited the Implementing Act to the Maine Indian Claims Settlement of 1980—the state law which purported to resolve land disputes between the Tribes and the State dating back to Maine's pre-history. There is growing public interest in—and momentum to recognize—tribal sovereignty.  Attorneys, students, and tribal leaders gathered in Portland on March 3, 2023, to highlight these current events in light of the fact that the history of tribal law in Maine has been one of isolation and restraint. The Symposium featured five expert authors discussing the importance of Federal Indian Law as it applies to the four federally recognized tribes located in Maine. The keynote address was presented by Michael-Corey Hinton, Leader of the Tribal Nations Practice Group at Drummond Woodsum and citizen of the Passamaquoddy Tribe (Sipayik).
The Symposium featured the following speakers:
Professor Nicole Friederichs, Practitioner in Residence at Suffolk University Law School
Professor Matthew Fletcher, Harry Burns Hutchins Collegiate Professor of Law at the University of Michigan Law School and Chief Justice of the Pokagon Band of Potawatomi Indians and the Poarch Band of Creek Indians
Donna Loring, elder and former council member of the Penobscot Indian Nation and former Penobscot Nation Representative to the Maine State Legislature
Eric M. Mehnert, Chief Justice of the Penobscot Tribal Court Court and attorney for Hawkes & Mehnert, LLP
Joseph E. Gousse, Esq., attorney for Berman & Simmons
Watch the entire symposium from the beginning here.  Or skip to Corey's keynote address here.