Aga Dixon Advises Town of Columbia Falls Where Developers Hope to Build World's Tallest Flagpole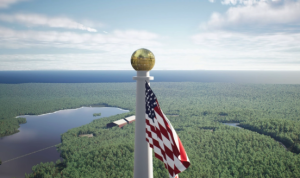 As a former Land Use Planner and now a municipal and land use attorney, Aga Dixon is well-suited to provide specialty legal services to the Town of Columbia Falls on a one-of-a-kind project.
As envisioned by the developers, the so-called "Flagpole of Freedom Park" is an ambitious proposal to build a 2,500-acre tourist attraction comprising, among other things, 55 remembrance walls naming 24 million deceased U.S. Veterans, a village with daily patriotic celebrations, a 4000-seat amphitheater, six museums, campgrounds, hotels, restaurants, and shops.  Perhaps the most controversial element of the Park is a proposal to construct the world's tallest flagpole and observation tower, flying the largest American flag, at 1776 feet above sea level.
Developers hope to persuade the residents of Columbia Falls to vote to annex approximately 10,400 acres from Maine's unorganized territories to house the Park.
Columbia Falls is a small town about an hour north of Bar Harbor with fewer than 500 residents.  The magnitude of the project presents numerous challenges to a community with no zoning, limited public infrastructure, and few local regulations.  The Town retained Aga to assist with all legal aspects of the Town's consideration of the annexation proposal and project review.
"The Town's goal is to ensure that the voters of Columbia Falls are given the chance to fully and fairly evaluate the annexation proposal and cast an informed vote," said Aga.  To that end, Aga will also help the Town evaluate the potential impacts of the project on the community's public infrastructure, resources, and rural character.
See below for related media coverage.
Media Coverage:
https://www.newscentermaine.com/article/news/local/billion-dollar-flagpole-of-freedom-project-paused/97-15a79d2a-b005-449e-b869-44b9a28321ce
http://quoddytides.com/reimbursement-deal-between-flagpole-developer-town-stalls.html
https://www.bangordailynews.com/2022/10/17/news/down-east/columbia-falls-freedom-park/