Adam Cote Helps Bosnian's American Dream Come True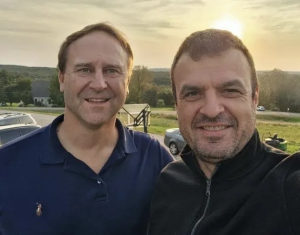 American Dream come true: How a Maine mother and son changed young Bosnian man's destiny
Published on Seacoast Online on October 11, 2023
SANFORD, Maine — While serving in the U.S. Army in Bosnia in the late 1990s, Adam Cote asked his interpreter, Vlajko Nikolic, to share his biggest wish in life.
"I wish my son could get a real education because the war here shut down all the schools," Nikolic answered.
Cote understood. Although the war in Bosnia ended with the Dayton Peace Accord a few years earlier, schools were still closed as the country recovered. Nikolic said his son, Ogy, was talented and smart and would benefit from resuming his education.
"Let me write some letters home and see what we can do," Cote said.
View the entire article here.